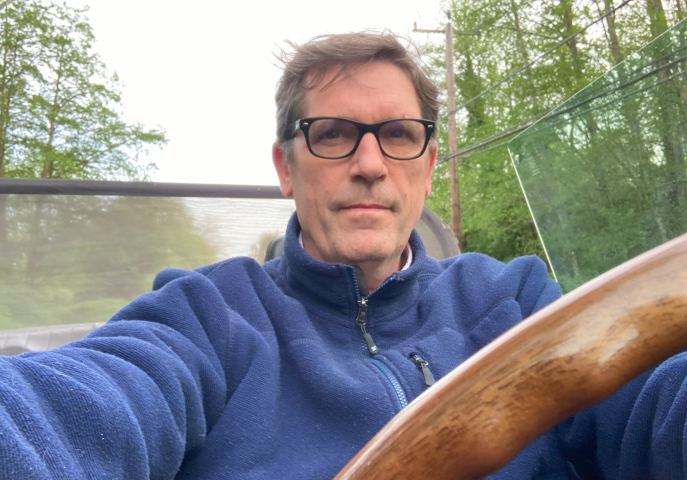 Driver name: Brad Shinn
Home town: Vashon Island, Washington
Car: 1966 Austin Healey Sprite
Other info: Brad's "road to racing" is an odd one; it began with an eBay bid on a '65 Sprite, thinking he could just bid it out of reach of his college son. That purchase was followed by the arrival of a classic Mini and a track day and the hook was set. Brad is in his fourth race season after completing race-craft school through SCCBC in Vancouver with the intent of racing with SOVREN. On a good day, he can keep race leaders in sight, on a bad day he can be seen retaking Stephen Newby's popular lecture on the limits of 70-year-old British cast iron. Brad is finishing his second term as president of SOVREN in 2023. Brad says he is the Chief Strategy Officer for an engineering and architecture consulting firm.
Brad is the fifth owner of his Sprite, which since the mid 70's has spent its life as a race car in Colorado and the Midwest, the last 20 years racing in RMVR with John Brousseau. In Brad's rookie year, the Sprite was stolen from the hotel parking lot the night before the Columbia River Classic in Portland. The car, and its trailer and tow vehicle were recovered a week later after a little adventure—which earned the car its name: Lucky.
Brad's son Nolan is often at the track as crew to make sure important pre-race checks are done, such as securing the hood pin and ensuring his dad remembers to breathe. Brad's wife, Shannon, supports his racing addiction from a far; she can't bear the dangers associated with racing and prefers the safety of her passion as a dressage rider where she has sustained only a few concussions and broken bones. Truly, it's a wonder they can even get life insurance.
---
Driver name: Greg Heacock
Home town: Maple Valley, Washington
Car: 1959 Austin Healey Bugeye Sprite
Other info: Greg has been an active vintage racer since 1993, where his first experience with racing was with the British GTD/GT 40 club whilst he was completing an advanced degree in bioengineering at the University of London, UK. Upon returning to the USA in 2002 Greg joined the SOVREN racing organization and raced a car he brought back from the UK, a 1963 Reliant Sabre 6. Following that he raced a 1959 Bugeye Sprite that he restored, then the 1967 Team Renault Europa. The projects and racing continued with a 1960 Lotus MK19, then a 1967 Costin Nathan GT. Currently Greg races his recently restored 1959 Cooper Monaco.
Greg's favorite car is his 1959 Bugeye Sprite. The car has great history as it was prepared originally by Don Healey; and is kept in very original condition – still showing the Castrol Oil livery – and running with a 948cc engine.
Greg is a keen racer and strives to restore vintage race cars to their period competition level and then actively compete, striving for safe close competitive racing.
---
Driver name: Owen Duncan
Home town: Victoria, British Columbia
Car: 1959 Austin Healey Bugeye Sprite
Other info: Owen grew up in the race paddock, supporting his dad, Rod. Over the years he has contributed countless hours of expert work to not just Rod's MG Midget, but to any driver in the paddock who needs a hand with anything. He is a tireless, selfless contributor who is always smiling and upbeat. Owen is working with Loren Campbell to return a Bugeye Sprite with over 50 years of racing history to the track in 2023, and start his racing career.
---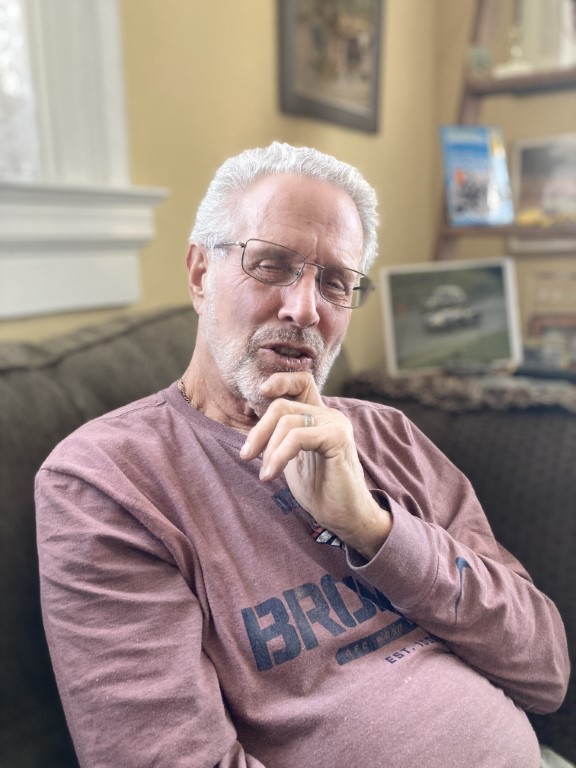 Driver name: Richard "Dick" Duncan
Home town: Martinez, California
Cars: 1959 Austin Healey Bugeye Sprite, 1961 MG Midget
Other info: Dick has been racing 52+ years, 1962-1972 and 1982- present. His first race was at Riverside International Raceway. He races a period correct HP Bugeye Sprite (948cc) because it was his first race car.
He also races a period correct HP square body Midget (948cc) originally owned/driven by Roger Eandi, SFR SCCA exec.
Dick looks forward to the opportunity to run in a full field (20-30 cars) of HP Sprites/Midgets, door to door, like he did in the 60's. "You can't have more fun or better competition. This series should fill the bill!"
---
Driver: Rod Duncan
Home town: Victoria, British Columbia
Car: 1962 MG Midget
Other info: Rod fell in love with racing in 1977 after going to Westwood with a co-worker. He had an opportunity to race a 970 Mini Cooper S and was hooked. Later that year he bought a '62 Midget for $50 Canadian and converted it for racing. His first ISCC novice race was at Western Speedway in 1980 and after completing the novice program ran H Improved Production for the next 20 years. When there was little completion left in H Improved Production Rod upgraded his car to compete in F Improved Production.
In 2015 Rod moved to Vintage Racing with his first SOVREN event. He found lots of Sprites and Midgets to compete with and felt he found his home. He has been attending a few races each year and plans on continuing until his son Owen is ready to take the helm and demote Dad to Pit Crew.
Although racing was Rod's first love, he has been married for 35 years to his lovely wife Peggy. Together they have raised two wonderful men, both of whom love working on cars.
---
Driver name: Stephen Newby
Home town: Lake Tapps, Washington
Cars: 1959 Austin Healey Bugeye Sprite, 1965 MG Midget
Other info: Stephen is the patriarch and senior racer in the Sprite-Midget paddock, beginning his race career in 1966, at age 15. He has raced autocross, gymkhana, grasskhana, and road course, in SCCA, Conference, CASC, and with SOVREN. His history of race cars includes Bugeye Sprites, MG Midgets, an MG TD, a VW Beetle, a hand-control Honda Civic, a Morris pickup, and even a Morris Minor Saloon! 2023 is Stephen's 52nd race season, and he is supported by his wife, Lori, his son, Devon, and his daughter-in-law, Tessa.
Stephen in the initiator, organizer, and chief evangelist for the West Coast Sprite-Midget Challenge.
---
Driver name: Loren Campbell
Home town: Issaquah, Washington
Car: 1959 HP Austin Healey Bugeye Sprite
Other info: 2023 is Loren's second year auto racing. His car was raced by his father in law, Sam Hamilton, throughout the Midwest from the late 70s to the mid-80s. For the 33 years from 1985 to 2018 it was stored in Ann Arbor, Michigan.
Prior to that it was completed as a race car and driven by Jason Len in California. Loren has been married 32 years to his supportive wife, Brin. They have two children, ages 26 and 22. Loren's other hobby is mountaineering. He has 33 summits of Mt. Rainier, including at least one in each calendar month.
---
Driver name: Brian Volkert
Home town: Normandy Park, Washington
Car: 1960 Austin Healey Bugeye Sprite
Other info: Brian is a retired CPA/Financial Exec who began racing in 1975 in Conference and SCCA. His first race was at Seattle International Raceway (now called Pacific Raceways). Brian notes that he was 15 seconds slower per lap than any other Sprite in that field.
He acquired his current car in 1977 because it was then less expensive to buy a whole car than to rebuild the engine in his previous car. Brian entered the vintage racing scene in 2015 and notes that "The friendships and comradery built through racing and working on each other's cars keeps me racing."

---
Driver name: Peter Smith
Home town: Del Mar, California
Car: 1958 Austin Healey Bugeye Sprite
Other info: Peter is an avid British Car Nut. Unfortunately he was born south of the border, in England, and whisked away at a young age to grow up in the U.S.A. Fortunately his parents couldn't handle him and his siblings, so they sent him to Scotland every other summer to be disciplined by his grandfather. This exposed him to the UK and that's when his fascination with little British cars began. As a kid he loved all things mechanical and developed a real skill for destroying them, and not quite rebuilding them, including bicycles, and eventually a go-kart, which he drove all over town. After getting a degree in chemistry in college he took up bicycle racing, and competed on the road and the track. Peter is winding down a long career in pharma/biotech and looks forward to having more time for racing.
Peter is married to Malea, 'my wonderful and tolerant partner for the last 24 years'. They have three teenage girls ages 14-19. Annabel, 17, has started racing the Sprite with VARA.
Peter's first race was at Buttonwillow Raceway Park in California, at the 2011 VARA British Extravaganza, in his Bugeye. He credits Terry Cowan, a car restorer and the president of the San Diego Healey club for talking him into taking the racing school at VARA.
He looking forward to a year with more "competition" where he can run the Sprite against cars with similar displacement and capability. Peter loves being on the track, but particularly enjoys good clean competition.
Peter's claim to fame is that he was once arrested for trying to out-run the police…in his go-kart!
---
Driver name: Ted Herb
Home town: Redmond, Washington
Car: 1968 Austin Healey Sprite
Other info: Ted has been racing since 2015 with Sovren. He recently retired from a busy 35 year plus career in commercial construction. Ted's racing habit is supported by his wife Jodi of 37 years, his son Cole, and a small group of close friends that attend almost all of his races, rain or shine! He is also supported by a first class mechanic, Brett Leahy.
Ted loves the logistics, preparation, and planning that goes into racing, and the endless opportunity to learn and seek incremental improvement while meeting such nice people that share the same interest.
Ted grew up around British cars and so he both knows the inherent frustration that comes with them, and loves them.
---
Driver name: Bill Greenman
Home town: Grass Valley, California
Car: 1967 MG Midget
Other info: Bill has been around cars for about as long as he can remember. He worked as a mechanic at Volz Bros Automotive in Grass Valley until he took over as the owner of the shop, primarily working on foreign cars.
Upon retirement, he had several friends who raced vintage cars. As a longtime fan of NASCAR and other racing, he jumped on the opportunity to stay busy in retirement by giving pit crew support to those friends. However, Bill knew that wouldn't last too long before he had to jump behind the wheel.
He started looking around at vintage cars, and with some familiarity and interest in foreign cars, the British cars really stood out. He bought his '67 Midget in 2014 from a retiring racer who kept up with all the maintenance, giving him a great "in" to vintage racing.
Since then, Bill's wife has lovingly named the Midget "Scarlet". His first race was with CSRG in October of 2015 at Sonoma Raceway, or as he knows it, Sears Point. His first time on the track was met with a broken rocker arm, which was, of course, the start of many repairs over the years. One of the best aspects of racing over the years has been the community of people that come with it. Rarely did Bill get to spend time with other "car people", let alone hundreds. He's made many lifelong friends over the years through these vintage groups, and always looks forward to good racing, conversations, and of course, some mechanical work. Bill is truly excited about the Sprite-Midget Challenge this race season, along with continuing to hone his skills on and off the track
---
Driver: Gunther Ruppel
Home town: Burnaby, British Columbia
Car: 1960 Austin Healey Bugeye Sprite
Other info: Gunther is a member of VRCBC (Vintage Racing Club of British Columbia), and has been involved in motorsports since 1990, starting as a volunteer and organizer in Edmonton, Alberta. In 1966 he drove a Bugeye for half and hour and wanted one from that day. In 2014 he realized his dream and purchased a street Sprite "to get ice cream on Sundays."
After two years of limited use he realized he was either going to sell it…or race it! After installing safety gear, attending race school, and completing his novice events, Gunther's first race in "Annie" was at Mission Raceway in 2017.
In 2018 Gunther infamously filled his tank full of diesel at the Columbia River Classic in Portland.
2019 was an quiet year in racing as he waited…and waited…for a shop to rebuild his engine. He finally moved it to a different shop and it was done just in time for the 2020 season COVID.
Racing has its share of challenges! And it has all the pluses of being around a bunch of good people. For 2023 Gunther is looking forward to getting to a few new-to-him tracks with the SOVERN group in Washington and Oregon, and maybe even California.
---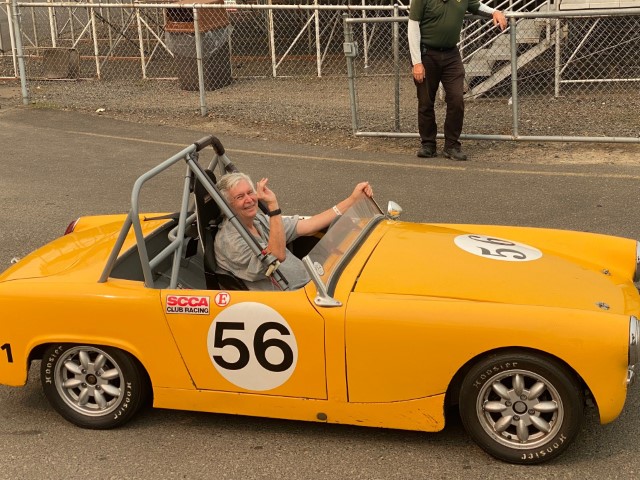 Driver: David Sweet
Home town: Salem, Oregon
Car: 1962 Austin Healey Sprite
Other info: Most of David's racing has been at Portland starting April 2005, though he has alse been fortunate to race at Reno/Fernly, Laguna Seca, Sears Point (aka Sonoma), Thunderhill, The Ridge, Pacific, Mission BC, and Elkhart Lake Road America. The Mission race made me an International Race Car Driver!
David reports that Road America was the best experience he's had. Growing up in Wisconsin and in high school and college he was an SCCA member and worked timing and scoring and tech inspection at Midwest tracks and considered RA his home track. "It was amazing to be able to go back and race there. It was even more special to have family come watch me race. Including my mom who was 91 years old then. Special thanks to Tony Garmey who transported my Sprite."
David never intended to race a Sprite. He tried to find an MGB because his first car was a 1965 B but was unable to locate one. Al Zorich, a FF racer friend took him to a regional race at PIR (Portland International Raceway) and introduced him to a great group of Spridget racers, one of whom knew of a newly prepared Sprite that he soon bought. The rest is history.
For David, friendships are an important part of the racing community. Two early inspirations were Dave Franks and Bud Smola, both of whom are no longer with us. He also finds support and inspiration from virtually all the Spridget folks along with friends who race other cars. It's a great community that evolves and I truly appreciate all of them.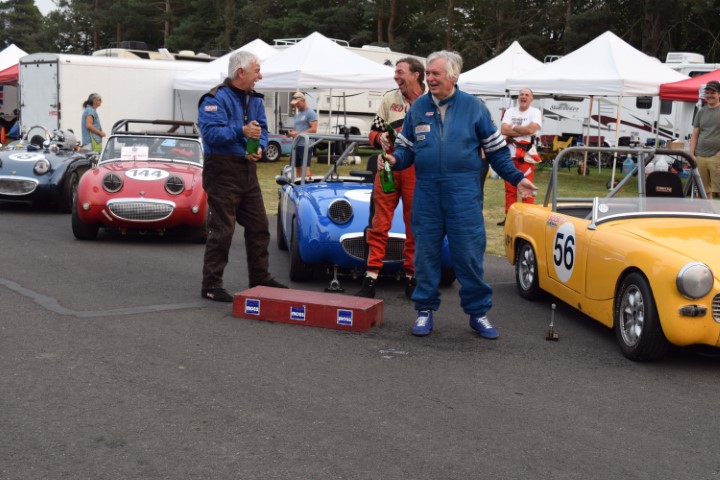 He has enjoyed the Sprite Midget Challenge. Its close competition and the group that supports each other. David is especially appreciative of Stephen and Lori Newby for all the effort they put into making this work and to making it fun.
David also appreciates the support from his wife, kids, and non-racing friends, many of whom have attended races. He offers special thanks to Brian Waters and Evan Hale for great race car preparation. "I can usually count on going to the track and just race because of them."
---
Driver: Geoff Tupholme
Home town: Pritchard, British Columbia
Car: 1970 MG Midget
Other info: Geoff got a very early start in motorsports, as his Dad was involved in the UK. His dad brought a 62 Healey Sprite race car over to Canada in 1968 and raced a while at Westwood. Geoff vividly remembers riding in the car when he was small. Fast forward to 1988 and Geoff bought his first car. Low and behold, it was British!. Geoff has always had a flare for Minis and Sprites, and currently owns a number of Minis and a few Sprites/ Midgets, and his kids were raised in them.
Geoff got his race license in 2006 and started running a 1973 Austin Mini. Over the years he has won many road races and hill climbs. Some of you may have seen his white Mini #441 with a set of Weber carbs sticking out of the hood, in which he participated in a number of Can-Am Mini challenges in all corners of the USA. Geoff was really excited to have an opportunity to participate in a Sprite-Midget challenge series. Dennis Repel (a long-time BC racer) purchased a 1970 Midget race car, #81, a few years back, which has history back to the Westwood days.
Over the past few years Geoff and Dennis have been restoring her back to better-than former glory. They decided to build the 1275 engine as radical as they could, but instead of Race gas it is running less compression to run on premium pump gas. 2022 was her first outing since the 1970s. Despite overheating issues and a few other teething issues, they had a successful season. They are currently enhancing the car for better reliability and look forward to running 2023 series. Geoff extends a special thanks to Dennis Repel for allowing him to run the car, and to Stephen Newby and friends for putting on this event.
---
Driver name: Paul Quackenbush
Home town: Grants Pass, Oregon
Car: 1960 Speedwell Bugeye Sprite
Other info: Paul has been "hooked on" British cars since he got a ride in a friend's MGTC at the age of 14. Vintage racing didn't really exist then, so he got his SCCA license in 1965 at the the brand new Mid-Ohio race track. He purchased the 1949 ex-Chuck Dietrich Lester MG and raced three or four races until his first child was born in 1966.
Paul's racing took a break for 30 years to raise his family and concentrate on his jewelry manufacturing business. Whiles restoring a street Mini Cooper in 1995, he went to a swap meet at Mini Mania and found a 1965 Austin Healey Sprite that was optimistically referred to as "race prepared", purchasing it for the bargain price of $3500. He soon realized even if it had been free, it would not have been a financially good deal. Soon though the fun factor on track and the social aspect of vintage racing soon had Paul totally engaged in the vintage racing community.
Paul's wife, Sue, also joined him at the track racing her own Bugeye Sprite. She raced for twelve years and then decided to become a full-time crew chief, and has supported Paul's racing efforts ever since.
Paul feels fortunate to have raced several different British cars at many different tracks across the country over the past 28 years, and he got an itch to get back to his small bore British racing roots. This year will be his first year racing the Speedwell Sprite. The log books that came with the car go back to 1989 and list four previous owners. Paul was fortunate to connect with two of the previous owners, along with a fellow from the San Francisco Bay Area who maintained the car for several years for an owner who has since passed away. He kept thorough details on the car while maintaining it and Paul is grateful that passed along his notes on setup details and race results. One of Paul's main reasons for getting back into a Sprite was watching all of the fun his friends are having with the Sprite-Midget Challenge series. The fact that the three race series will be held on three of his favorite West Coast tracks is a huge bonus!
---